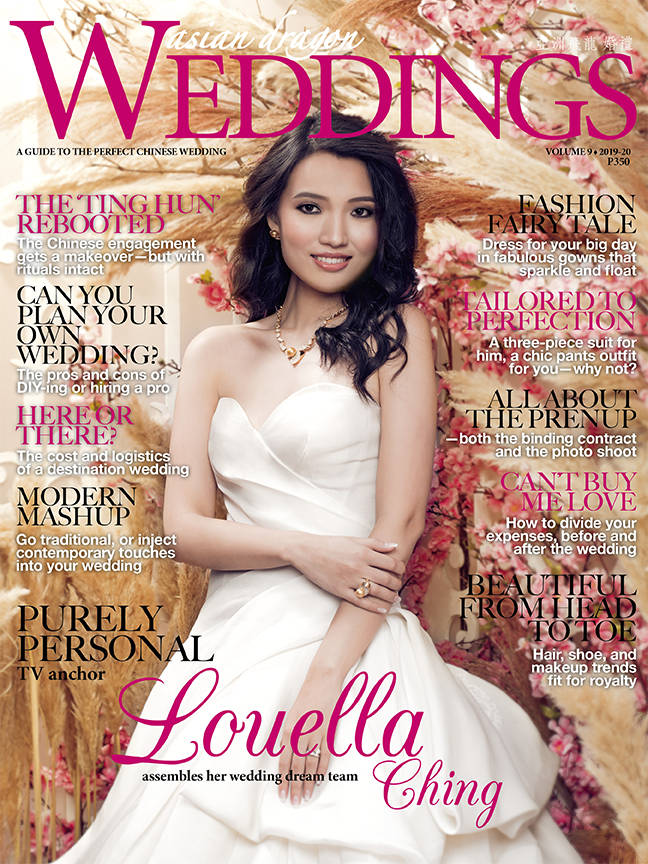 Asian Dragon Weddings 2019-2020
(Volume 9)
Jeffer and Louella Ching Chan's wedding was the stellar celebration of a union that was years in the making.
If you were a guest at the wedding reception of Louella and Jeffer Chan, you would have looked up at the ceiling and felt like you were swimming in stars. It was filled with thousands of pinprick lights, accentuated by softly glowing luminous balls and fragrant blooms, making you believe that the vast night sky and rustic outdoors had somehow fit into the ballroom of East Ocean Palace.
But the spectacular backdrop was a mere recreation of an even more magical night 14 months prior, when Jeffer got down on his knees on a frozen lake in Northern Sweden, holding out a ring of earthly stardust as a shiny promise to the only woman he had ever loved. When Louella Ching said yes, the sky twinkled with infinite approval. In truth, the stars had aligned for them a long time ago.
Know more of their story along with articles on why one should get a prenuptial agreement, how a dowry is still honored through time, how to choose one's godparents, and many more.
Everything you need to know on venues, timeless wedding fashion for both bride and groom, and hidden honeymoon gems to help plan the perfect wedding are now on Asian Dragon Weddings' Volume 9, available for order on Lazada.

Back to Top