2nd Issue • June-August 2007
Hapee's Cecilio Pedro with son Joel - A Reason to Smile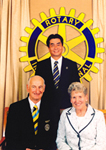 Then readers can take their time an enjoy the article on Ramon "Toto" Cua Locsin, a brave and proud Chinoy soul who gives as much to his community as he possibly can with everything that he does. Ramon Locsin shares with us his reasons for a life of service and his keys to success.
Readers can also meet Roberto Lina, the man who built a distribution empire and share in his family life with the detail and intimacy that only Asian Dragon can provide. With wonderfully touching quotes and photographs, our magazine offers a meeting with one of the Philippine's most honorable success stories.
A business club's owner Mr. James Dy sits down with one of our contributing writers to share his thoughts and feelings on the Philippine Chinese Charitable Association. Mrs. Olivia Limpe Aw also gets her feet wet with a very informative and interesting article that dwells on logistics for big and small business in the Philippines.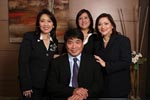 Exequiel Robles, one of the top real estate powerhouses in the country tells Asian Dragon why his success is based on hard work and sacrifice. Visiting the fine country of Thailand, our very own publisher Mrs. Olivia Limpe-Aw and Editor, Mr. Lito Gutierrez, had the opportunity to meet with one of the most successful entrepreneurs in the country, Mr. Chawalit Techapaibul who shares his intimate formula for success in the world of business and family with his ever supportive Chinese-Filipina wife Susan.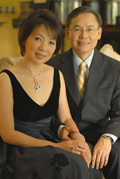 Even going to Singapore, Asian Dragon got together with the former soldier turned entrepreneur Robert Tan who made a name for himself with the luck and success that his four leaf clovers provide.
Asian Dragon Magazine does not stop at just giving you a look at the business world but also jumps into interior design as writer Rene Guatlo looks into one of the most impressive home owner and architect's design for a perfect household.
Give us two beautiful ladies who love children and Asian Dragon gives you an inside look at one of the newest pre schools in Manila. Mrs. Hazel Gan-Go and Mrs. Julie Pascual-Penaloza bring the readers into the walls of The Learning Center, a new preschool that believes in their special and unique curriculum.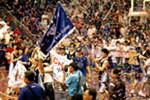 Asian Dragon writer Ms. Linda Limpe goes deep into the Chinese roots to understand what it is about Fookien that leads to innocent misunderstandings. Also with a little taste for sports and athletics, Asian Dragon writer Adrienne Dy, one of our newest talents, bring us right into the heart of Tiong Lian Basketball, one of the most exciting leagues in the Chinese Filipino primary and high school basketball.
Our Chinese editor, Mr. Zhuang Ming Deng also contributes Chinese Trivia with a short tasty article on the origins of "koutou" a symbol of thanks when being served tea and tea and the origin of the word "Eat Vinegar" which is the literal translation of the Chinese word for "Jealousy" and Rene Guatlo sits down with artist Ramon Diaz who helps explain inspiration and taste in art.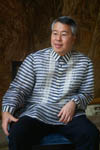 Of course Asian Dragon Magazine has not forgotten our love for fashion as we take readers through a full course meal of bridal gowns, barongs, designer bags, wedding gifts, jewelry and up to date fashion wear with our "real people" from the Chinese Community as our models of all ages. Each bringing their own flair to our glossy pages, all the hard work of our photographers, fashion designers and writers are poured into our second issue to give you your fill of beauty and taste.
Ms. Isabel Chen also had the privilege of meeting Francis Limketai of the Limketkai conglomerate from Cagayan de Oro, the perfect "ninang", one of the most celebrated businesswomen in the Philippines. With conglomerates and businesses all in the palm of her hand, this great woman has only to smile to brighten our magazine.
White Castle's own Roxanne Guinoo meets with Asian Dragon writer, Walter Ang to give the readers a glimpse of what it takes to be one of the biggest icons in Philippine history.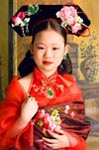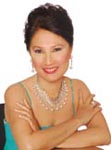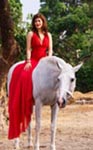 Mrs. Isabel Chen takes a deep breath and works on an exquisitely written and deeply informative article on one of the most sought after gems in Chinese history, jade. With impeccable research and days of labor, Mrs. Chen brings to you a fully detailed look at one of the oldest and most tantalizing jewels ever.
Swinging straight to modern time, we take a look at beautifully made watches that many owners can be proud of having around their wrists.
How about food? We can't forget that. Asian Dragon shows its readers how to prepare great food and drinks with the help of Paradise Mango Liqueur.
Asian Dragon writer Manuel Uychiaoco takes our readers on a 3 course journey through the busy eating sections of the city of Singapore, from breakfast all the way through to dinner.
Our very own Louie Cruz visits the newest resort in Ilocos, Philippines and takes our readers through a short sweet tour of the Sitio Remedios. Then Mr. Cruz steps into another world, that of the Oriental Hotel, with its lavish views and perfectly prepared decorations and architecture, leaves many of us dumbfounded.





< < Prev: 1st Issue • January-March 2007 | Back to Top | Next: 3rd Issue • September-November 2007 > >