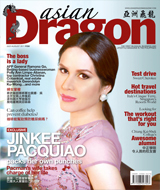 23rd Issue • July-August 2011
Jinkee Pacquiao - Pacman's wife takes charge of her life
Woman power and more in July's Asian Dragon
Women rule, in business as well as other fields, as the inspiring stories in this month's issue of Asian Dragon prove.
On the cover, the Pacman's missus Jinkee Pacquiao comes into her own, and talks candidly about past regrets as well as future plans, for herself as well as her world-famous spouse.
Real estate maverick Gwendolyn Ku-Wong, construction pioneer Christina Cobankiat, Beijing-based businesswoman Polly Ann Limpe-Alianan, the AFP's first line General Ramona Go, world-class hotelier Annabella Santos-Wisniewski, the Peninsula Manila's first female GM Sonja Vodusek, and generous philanthropist Pilar Ongking are among the trailblazing ladies who share their experiences—and prove that women can indeed shine in what seems to be a man's world.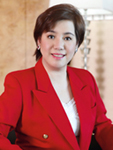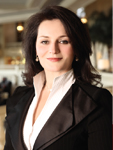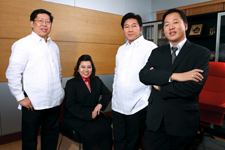 Also to round out this issue, we talk to the dynamic alumnae of Chiang Kai Shek College, marvel at the beautiful Ikenobo arrangements Linda C. Limpe finds in Taipei, and learn about Italian Ambassador Luca Fornari's love for scuba-diving. We meet the man to go to when disasters strike, Defense Undersecretary Benito Ramos, and get his gracious permission to shoot our unusual fashion spread, "Drastic Measures," with support from the country's top disaster response teams.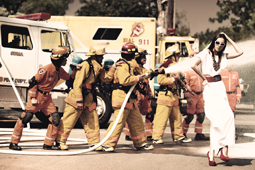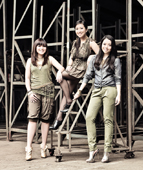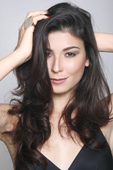 Speaking of fashion and beauty, choose from accessories in the season's nature-inspired hues, try out five hot new workouts, or sign up for a makeup course—we'll tell you how.
Don't miss the usual health features, parties, and food stops that make this issue a true must-read.





< < Prev: 22nd Issue • May-June 2011 | Back to Top | Next: 24th Issue • September-October 2011 > >