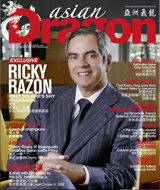 33rd Issue • March-April 2013
EXCLUSIVE: Ricky Razon - Meet Solaire's shy billionaire
'I'm never quite satisfied' –Ricky Razon
Businessman Enrique "Ricky" Razon seldom grants interviews even if they might benefit his latest "hobby"—Solaire Manila Resort & Casino.
Bi-monthly magazine Asian Dragon managed to secure an exclusive interview weeks before the opening of the property and discovered that the no-nonsense magnate is really always on the move and is never satisfied.
Razon hired one of the top casino designers in the world, Paul Steelman, noted for his design of the Sands Macau (from blueprint to opening in 600 days). With Razon at the helm, however, it would take much, much longer than that.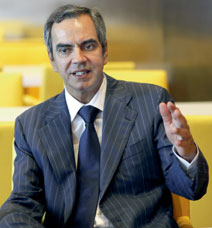 In the Asian Dragon interview, Razon said he started this project in 2007 when he would pick up ideas during his travels abroad.
"I look at finishes, decor, things that would never have crossed my mind before. Of course, I'm never quite satisfied."
He wasn't exaggerating. He had numerous parts of the building redone just weeks before the opening last month.
"I've had stone floors, two entire restaurants ripped out… and replaced."
Fortunately, the results are worth checking out. With a total of 1,200 slot machines and 300 gaming tables, the gaming floors at Solaire can rival those of Macau, Singapore and Australia.
Its signature restaurants Finestra (Italian); Red Lantern (Cantonese); Yakumi (Japanese); Lucky Noodles (Asian selection); Fresh (International buffet) and Strip Steakhouse offer gamers a range of world-class cuisines, but Razon said in the interview that none of the restaurants will really make money; Solaire will have to make its money at the gaming tables.
Don't make the mistake, however, of thinking that dining at Solaire is an inexpensive activity. Meals can run into the thousands of pesos per person. At Yakumi, half a leg of the imported Hokkaido winter crab is P4,000 while the striploin steak with a side of bone marrow at Strip costs approximately P5,000.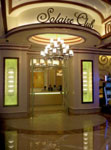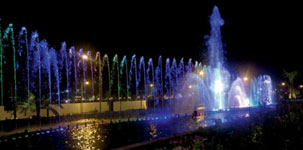 "Of course, to build this way is expensive, but I can't have anything mediocre or half-baked," Razon said. "Unless you go all out, how will you win?"
Article courtesy of Philippine Daily Inquirer by Thelma San Juan - visit page





< < Prev: 32nd Issue • January-February 2013 | Next: 34th Issue • May-June 2013 > >