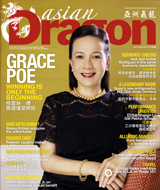 35th Issue • July-August 2013
EXCLUSIVE: GRACE POE—WINNING IS ONLY THE BEGINNING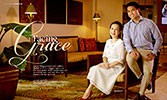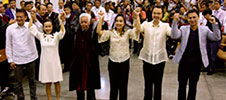 On the cover this issue is Senator Grace Poe Lamanzares, who topped the recently concluded senatorial elections. In an exclusive interview with Rafael A. S. G. Ongpin, she shares the challenges she encountered during the campaign period, as well as the changes she hopes to effect during her term in the office.


With the ongoing tension between the Philippines and China over disputed waters in the South China Sea, Asian Dragon consulted experts who weigh in on the possible consequences of the conflict, and deterrent measures our country can adopt.
This issue also examines the power and influence of Facebook, illustrating its role as a business marketing booster as well as a platform for discussion of public and national issues.


The fitness section introduces us to businessman Hans Co, who aims to encourage a culture of cycling among Filipinos through his cycling shop and bike tour operator. Ma. Stella Arnaldo writes about her visit to the Healing Institute of Asia and introduces us to alternative healing treatments.
Finally, Asian Dragon reveals that punk is back in Fashion. Take cues from our fashion editorial and learn how to mix and match pieces to achieve a feminine look with just the right amount of rebelliousness.
All these and more are in store for you in the July-August 2013 copy of Asian Dragon Magazine, available at selected magazine outlets nationwide.





< < Prev: 34th Issue • May-June 2013 | Next: 36th Issue • September-October 2013 > >