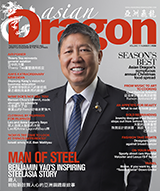 60th Issue • October-November 2017
Benjamine Yao - Man of steel
Food for thought in October-November Asian Dragon
Benjamin Yao's story—about steering Steel Asia from cottage industry to heavy industry, through one crisis after another—is one survival against the odds.
"There's always a solution to any problem, if the parties will just cooperate," says Benjamin. "We never gave up." In the last 10 years, Steel Asia, the country's top steel bar manufacturer and supplier, has expanded more than 10 times. They have set up mills in Cebu and Davao, and are opening new facilities to recycle scrap steel.
See the full story alongside the inspiring journeys of PhilJets' Thierry Tea, Asian Institute of Management's Jikyeong Kang, jewelry designer and entrepreneur Paul Syjuco, chef-cum-artist Ramon Antonio, Bayo's Leo and Anna Lagon, and more.
See other motivating profiles of blogger Ingrid Chua, Chef Jonathan Paul Em of Baker's Table, portraitist Gordon Lee, Mike Monroe Yu, and many more.
All these and more of business, lifestyle, fashion and food are in Asian Dragon's August-September issue, now available at leading bookstores nationwide.

< < Prev: 59th Issue • August-September 2017
Next: 61st Issue • December 2017-January 2018 > >