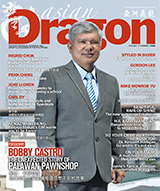 59th Issue • August-September 2017
Bobby Castro - The unexpected story of Palawan Pawnshop
Food for thought in August-September Asian Dragon
The most unusual journey of Bobby and Angelita Castro, founders of the nationwide Palawan Pawnshop chain, who are still working for social justice in a different way.
Bobby and Angelita Castro look like a couple of kindly grandparents—which they are, just beginning to ease into their senior years. Soft-spoken, unfailingly polite, and cheerful, they look like they've just stepped out of a magazine ad for insurance or something. You might be surprised to learn that they founded and run one of the largest and most dynamic businesses in the country, Palawan Pawnshop and Palawan Express Pera Padala remittance service. They built it up from a single branch, with P30,000 capital. They graduated from every entrepreneurial stage—micro, small, medium, and large—and today, they are major players in the industry.
See other motivating profiles of blogger Ingrid Chua, Chef Jonathan Paul Em of Baker's Table, portraitist Gordon Lee, Mike Monroe Yu, and many more.
All these and more of business, lifestyle, fashion and food are in Asian Dragon's August-September issue, now available at leading bookstores nationwide.

< < Prev: 58th Issue • June-July 2017
Next: 60th Issue • October-November 2017 > >