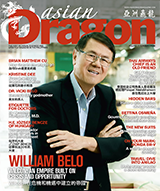 58th Issue • June-July 2017
William Belo - Wilcon: An empire built on crisis and opportunity
Food for thought in June-July Asian Dragon
How are top brands built? Wilcon Depot's William Belo shares how to stay strong amidst crises and challenges. Now on its 40th year, Wilcon Depot has situated 38 branches all over the country, which proves that Belo is indeed the king of home-building in the Philippines. He conquers bigger battles with sheer eagerness and dedication, making his name one of the most remarkable in the industry.
Learn more about his journey to success as we take you to the most inspiring story of his thrive through crises.
All these and more of business, lifestyle, fashion and food are in Asian Dragon's June-July issue, now available at leading bookstores nationwide.

< < Prev: 57th Issue • April-May 2017
Next: 59th Issue • August-September 2017 > >