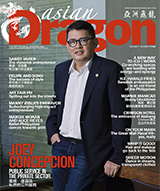 57th Issue • April-May 2017
Joey Concepcion - Public service in the private sector
Food for thought in April-May Asian Dragon
After the success of Go Negosyo, business leader Joey Concepcion shifts his focus to small and medium enterprises—and how big companies can play big brother to them.
After more than a decade since he served as a presidential adviser to the country's highest elected official, Joey Concepcion got the call through one of the smartphones he rarely used. He was on a trip out of town and was not expecting any urgent messages. But the voice at the other end of the line was based in Malacañang and asked him if he wanted to become the Secretary of Trade and Industry. Concepcion, chairman and CEO of RFM Corp., declined, saying that affairs in that department were "not his focus."
More stories can be seen inside that includes Director and producer Marnie Manicad, Malaysian businessman David Tan, Swedish Ambassador Harald Fries, Crimson Hotel GM Gerhard Doll, and many more.
All these and more of business, lifestyle, fashion and food are in Asian Dragon's April-May issue, now available at leading bookstores nationwide.





< < Prev: 56th Issue • February-March 2017 Next: 58th Issue • June-July 2017 > >-->