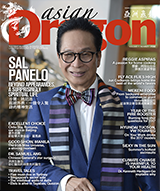 56th Issue • February-March 2017
Sal Panelo - Beyond appearances, a surprisingly spiritual life
Food for thought in February-March Asian Dragon
People are drawn to the power lawyer and presidential legal counsel's flamboyance and quick wit, but his more somber, almost mystical side proves just as fascinating.
There are many things people know—or think they know—about Salvador "Sal" Panelo, presidential chief legal counsel, high profile lawyer, and unofficial"interpreter" of President Rodrigo Duterte's many contentious statements and actions.
"I go where it's right. I cannot be influenced, I cannot be bought. Whatever the law is, where justice is, I'm there. I am against oppression. In a way, President Duterte and I are the same, which is why we get along. Rody to me is the epitome of the person I had in mind to rule this country. He has spirituality without being religious," Panelo remarks.
This issue holds inspiring journeys of chef Reggie Aspiras, Fly Ace Corporation's Jun Cochanco, Ambassador to China Santiago 'Chito' Sta. Romana, renowned surgeon Samuel Ang, and more. Also in the issue are the latest updates and trends in fashion, beauty, health, and cars.
All these and more of business, lifestyle, fashion and food are in Asian Dragon's February-March issue, now available at leading bookstores nationwide.

< < Prev: 55th Issue • December 2016-January 2017
Next: 57th Issue • April-May 2017 > >