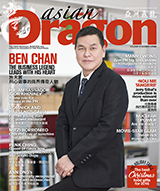 55th Issue • December 2016-January 2017
Ben Chan - The business legend leads with his heart
Food for thought in December 2016-January 2017 Asian Dragon
The chairman of multi-brand retail conglomerate Suyen Corporation believes in nurturing relationships, creating icons, and constantly diversifying—essential tactics in these highly competitive times. Benito "Ben" Chan, chairman of multi-brand retail conglomerate Suyen Corporation, is one of the most loved business leaders in Manila. Cool, suave, and humble, he is known as a man with a big heart.
Chan attributes his success to guanxi or guan shi, one of the pillars of Chinese culture. Guanxi (which literally means "connection" or"rapport") is about establishing a network of mutually beneficial relationships outside of a formal environment. Business relationships deepen as the two parties get to know each other on a more intimate level through dinners or travels.
See the full story in this issue alongside the stories of New York-based event's organizer, designer, and director Jerry Sibal, Actors Romnick Sarmenta, and Harlene Bautista, Award-winning newscaster Mitzi Borromeo, Charles Lee and many more.
For our columns, renowned naturopathic doctor James Rouse shares the secrets to an awesome life in, , painter and designer Fai Co pulls off over-the-top, maximalist combinations with ease in his Quezon City home, and so much more.
All these and more of business, lifestyle, fashion and food are in Asian Dragon's December-January issue, now available at leading bookstores nationwide.

< < Prev: 54th Issue • October-November 2016
Next: 56th Issue • February-March 2017 > >