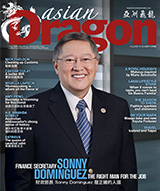 54th Issue • October-November 2016
Bato and Aguirre - The right man for the job
Food for thought in October-November Asian Dragon
Finance Secretary Carlos 'Sonny' Dominguez sits down with Asian Dragon and talks about his childhood, his biggest lessons in business, and how this administration is closing in on poverty.
Would-be semi-retiree Carlos "Sonny" Dominguez—hard-nosed businessman, two-time Cabinet secretary under Cory Aquino, staunch PDP-Laban supporter—is in a corner office again, directing one of the most sensitive and powerful agencies in government, months after he initially declined his current post.
He was all set to retire as early as 2014. All he wanted to do then was enjoy life, go hunting, do a little traveling. But politics—in Dominguez's case, his affiliation with PDP-Laban and support for childhood friend Rodrigo Roa Duterte—drew him back in.
See the full story on this issue of Asian Dragon alongside inspiring journeys of CEO Amy Peng, Chef Niño Laus, Estrel's Caramel Cakes' very own Estrella 'Tita Estrel' Ylagan, Discovery Primea's David Pardo de Ayala and many more.
All these and more of business, lifestyle, fashion and food are in Asian Dragon's October-November issue, now available at leading bookstores nationwide.

< < Prev: 53rd Issue • August-September 2016
Next: 55th Issue • December 2016-January 2017 > >