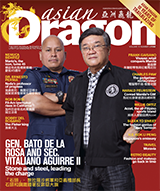 53rd Issue • August-September 2016
Bato and Aguirre - Stone and steel leading the charger
Food for thought in August-September Asian Dragon
Justice Secretary Vitaliano Aguirre II and PNP Chief Ronald 'Bato' De La Rosa are fighting the war on drugs and they're determined to do the job.
Asian Dragon is honored to have been given time to speak with these two very busy chiefs to discuss just how they're going to win this war on drugs and how their personal experiences have shaped and prepared them for the mammoth task ahead.
All these and more of business, lifestyle, fashion and food are in Asian Dragon's August-September issue, now available at leading bookstores nationwide.

< < Prev: 52nd Issue • June-July 2016
Next: 54th Issue • October-November-2016 > >