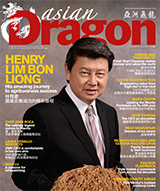 52nd Issue • June-July 2016
Henry Lim Bon Liong - His amazing journey to agribusiness success
Food for thought in June-July Asian Dragon
The backstory of hybrid rice in the Philippines is the story of businessman and agritech pioneer Henry Lim Bon Liong's amazing journey, as he tells it—a story of determination and serendipity, as well as tragedy and triumph. "In 1997, if you had asked me what was the price of a kilo of rice in the market, I wouldn't even have known. I had no idea of the difference between dinorado and sinandomeng.
"Erap (Joseph Estrada) was Vice President at that time. I am quite close to him. He had no portfolio, so he would wake up very late in the morning, and after lunch, he would call up some of his friends to come over. I would go to his house; it was just here in Greenhills. I don't smoke, I can't drink, and I don't play pusoy or mahjong. So we would just talk. One day, he became very serious, and he said, 'Henry, if ever I become the President of the Philippines, I would like to make agriculture my top priority. We should learn from China. They have a very big population, yet, they are even able to export their grains.'
"This aroused my curiosity. I did some research, and I found out that China has 22 percent of the entire world's population, but only seven percent of the arable land in the world. How can seven percent arable land area feed a 22 percent population? In 1997, China already had a population of 1.2 billion of the world's six billion. Today it has 1.4 billion out of a total 7.2 billion already." — Henry Lim Bon Liong
Follow his story along with CEO and master storyteller Mike Tuviera, Chef Joan Roca i Fontané, Korean general manager of marketing of Nissan Philippines Inc. Sungjoon 'SJ' Hub, and others in this issue of Asian Dragon magazine.
All these and more of business, lifestyle, fashion and food are in Asian Dragon's June-July issue, now available at leading bookstores nationwide.

< < Prev: 51st Issue • April-May 2016
Next: 53rd Issue • August-September 2016 > >