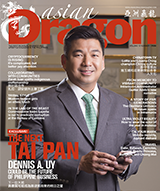 62nd Issue • February-March 2018
Dennis Uy - The next tai pan
Food for thought in February-March 2018 Asian Dragon
From petroleum to logistics, Dennis A. Uy's success story is an insight into the future of Philippine
business. He has disrupted traditional, elite-dominated Filipino business. To the posh Makati crowd, he seems to have come out of nowhere, not only a country boy, but from deep Mindanao. Suddenly, or so it appears to them, he is in control of the largest independent petroleum business in the country, and now, in partnership with the SM group, one of the largest logistics group.
What is not so obvious is the over two decades of work he put into getting where he is today, from working in the family business, to building his current empire, brick by brick, on the back of a determined idea.
See the full story on Asian Dragon's Vol. 12 No. 1 issue alongside the inspiring journeys of Commissioner Isidro "Sid" Lapena, Intramuros Administration's Guiller Asido, Seda Vertis North GM Brett Hickey, Egyptian ambassador Ahmed Abdelaziz Ezzat, mother-and-daughter team Lolita and Louella Ching of Chinatown TV and more. Also in the issue are the latest updates and trends in fashion, beauty, health, and cars.
All these and more of business, lifestyle, fashion and food are in Asian Dragon's February-March issue, now available at leading bookstores nationwide.

< < Prev: 61st Issue • December 2017-January 2018
Next: 63rd Issue • April-May 2018 > >