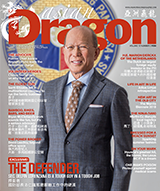 63rd Issue • April-May 2018
Delfin Lorenzana - The Defender
Food for thought in April-May Asian Dragon
Secretary of National Defense Delfin Lorenzana brings an impressive mix of combat and managerial experience to a big job—one he never expected.
Asian Dragon (AD): If you had to choose only one thing that you could achieve during your tenure as Secretary of Defense, what would it be?
Delfin N. Lorenzana (DNL): I would stop terrorism in Mindanao. The Abu Sayyaf, the NPA. The NPA, for all their talk about being the hope of the motherland, are actually preventing progress, by burning equipment of companies that do not pay revolutionary taxes, for example.
AD: It is said that you were the most surprised person when the president nominated you for Secretary of Defense.
DNL: That is so true. I was here during the campaign period, I arrived on April 25. I was still Head of Veterans' Affairs; my term was supposed to end on June 30, I was co-terminus with president PNoy, as he was the one who appointed me. I was watching the election, but I didn't even go and visit Mayor Duterte. When he won, after a week, my classmate Sid (General Isidro Lapeña), told me, "President Duterte wants to see us." So we went there, around May 18. He told me, "I've been looking for you for a long time. I need your help here, come back." I said, "Sure, of course, Mayor. Wherever you want to put me, I will help you." He said, "Leave me your SOI (Statement of Intent), and I'll have my people look at it." So, I submitted my SOI, and I went back to the US, to wind up my job. I wasn't even there a day, when Bong Go (Special Assistant to the President) called me, and said, "Come back right away, we have a meeting on the 31st." I returned, and he announced I was to be appointed Secretary of Defense. I was surprised, actually. I had been expecting a small bureau position. It was big, it's a big job. But I will do it. My focus is really on Mindanao. I'm from Mindanao. I was born there, I grew up there. It's time Mindanao rose up.
See the full story on Asian Dragon's Vol. 12 No. 2 issue alongside the inspiring journeys of Former Chief Justice Reynato Puno, Santi Elizalde, Bryan McClelland, David Leechiu, Dutch Ambassador Marion Derckx, Martin Cu, Benedict Que, Martin Kaspar, and more. Also in the issue are the latest updates and trends in fashion, beauty, health, and cars.
All these and more of business, lifestyle, fashion and food are in Asian Dragon's April-May issue, now available at leading bookstores nationwide.

< < Prev: 62nd Issue • February - March 2018
Next: 64th Issue • June-July 2018 > >