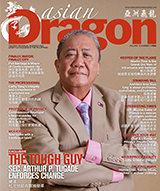 64th Issue • June-July 2018
Arthur Tugade - The Tough guy
Food for thought in April-May Asian Dragon
Transportation Secretary Art Tugade means business—and he has the corporate experience, the work ethic, and the backbone to get a myriad of projects off the ground
Transportation Secretary Arthur P. Tugade spent the first 45 years of his career in the corporate world. He was the president of the Transnational Diversified Group (TDG) of J. Roberto "Robbie" Delgado. Art had started out working for Robbie's father. When Robbie went on his own, he took Art with him, and together with their team, they built TDG into a multi-billion peso juggernaut.
Art grew up poor. His parents were Ilocano migrants to the city. They lived in Sampaloc and Tatalon, and he spent a lot of time on the streets as a child, "up to no good," as he himself admits. He ate frugal meals out of plastic bags, as his parents struggled to make ends meet. They had no running water, and their toilet was an outhouse. The area often flooded in the rainy season, and Art would collect kangkong that drifted around, or would catch gourami fish to eat, using a motorcycle battery and live wires.
He attended San Beda College on scholarship from elementary to law school. He graduated magna cum laude in Philosophy from the university in 1967, and again, magna cum laude and valedictorian from the law school in 1971. He notes that he spent most of his time in the library, as he could not afford to buy his own law books. He was classmates, and friends, with Rodrigo Duterte at San Beda Law.
After passing the bar in 1972, and a brief period practicing law privately, he joined the office of Ambassador Antonio Delgado as an executive assistant. He reinforced his education with an Executive Education program at the National University of Singapore in 1985.
Art started his own group, called the Perry's Group of Companies, in 2003. He left TDG soon after. Perry's was named after a son of Art's who died tragically young from an illness. The group, which is now run by Art's children, engages in niche entrepreneurial businesses such as boutique hotels and travel services, as well as mainstream businesses, such as gasoline stations.
In 2012, Art was appointed President and CEO of Clark Development Corporation. He turned it from a subsidized state firm into a profitable revenue generator for the government, grossing about P1.5 billion from 2013 to 2015.
See the full story on Asian Dragon's Vol. 12 No. 3 issue alongside the inspiring journeys of Martin Tinio, Mayor Pidi Barzaga, Commissioner Raymund Liboro, Cathy Yang, H.E Nicolas Galey, Chef AJ Reyes, Architect Jose Siao Ling and more. Also in the issue are the latest updates and trends in fashion, beauty, health, and cars.
All these and more of business, lifestyle, fashion and food are in Asian Dragon's June-July issue, now available at leading bookstores nationwide.

< < Prev: 63rd Issue • April - May 2018
Next: 65th Issue • August-September 2018 > >