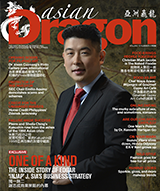 65th Issue • August-September 2018
Injap Sia - The inside syory of Injap Sia's business strategy
Food for thought in August-September Asian Dragon
Injap is on our cover again. Last time, he had just sold 70 percent of Mang Inasal to Jollibee Foods. This time he is leading his Double Dragon Properties to become a major player in the industry. He gave us an insight into how he starts and grows his businesses.
"When I go into a business, I want it to lead, in five to seven years, to domination of that industry. It should be hard, but worthwhile. You create, and dominate a category, and leave no room for a second player. In fast food, it's like that. Eventually, you need to have the scale, the logistics, the brand recall. The margins are slim, you need the volume. It's a chicken-and-egg situation. So you have to grow really fast to attain the scale. Mang Inasal grew to 100 stores in four years. When Jollibee acquired 70 percent of it, it was 330 stores, the company was just six-and-a-half years old at the time. In the '70s and '80s, it was different. You could grow a bit more slowly, along with everyone else. That won't work now. Back then, they were all at the starting point…There are really just six fast-food chains in the Philippines: McDonald's, Jollibee, Chowking, Greenwich, KFC, and Mang Inasal. All of them have at least 300 stores. If you go back 30 years, before Mang Inasal, it has been just them. There's no change of players. Only Mang Inasal was able to enter that league. That's the lesson of entry barriers." — Edgar J. Sia
See the full story on Asian Dragon's Vol. 12 No. 4 issue available at leading bookstores nationwide and downloadable from Magzter.
All these and more of business, lifestyle, fashion and food are in Asian Dragon's August-September issue, now available at leading bookstores nationwide.

< < Prev: 64th Issue • June - July 2018
Next: 66th Issue • October-November 2018 > >