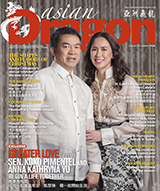 66th Issue • October-November 2018
Koko Pimentel and Kathryna Yu - Begin a life together
Food for thought in October-November Asian Dragon
Everything is happier as Sen. Aquilino Martin "Koko" Pimentel III stepped down from the Senate presidency early in 2018 with a strangely beatific demeanor. That same day, the Senate press corps badgered him, to the point that he admitted that he and his girlfriend, Anna Kathryna Yu, were engaged to be married. It is indeed a new life and a new beginning for Sen. Koko, whose first marriage ended acrimoniously in 2011. Kathryna is 18 years younger than Koko, but the bond between them is unique.
See the full story on this issue of Asian Dragon magazine along with kitchen guru, vlogger, restaurant conceptualizer, and all-around workhorse Erwan Heussaff, St. Luke's-BGC's medical director Dr. Brian Cabral, Italian-born chef Nick Malgieri, and Taal Vista Hotel General Manager Richard Gamlin.
All these and more of business, lifestyle, fashion and food are in Asian Dragon's October-November issue, now available at leading bookstores nationwide.

< < Prev: 65th Issue • August - September 2018
Next: 67th Issue • December 2018-October 2019 > >