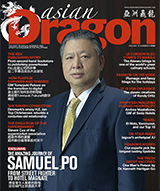 67th Issue • December-January
Samuel Po - From street fighter to hotel magnate
Food for thought in December-January Asian Dragon
Samuel Po is a very soft-spoken man. He is a property magnate today, known as the developer of Marco Polo Ortigas Manila, an up-start five-star hotel that has dared to challenge the mighty Edsa Shangri-La on its home turf. How Samuel Po, a self-described 'probinsyano' from Iloilo, made it big--from nightclubs to baby diapers (EQ Diapers)--is a very unusual story.
Grab a copy of the latest issue of Asian Dragon Magazine to read the full story on Samuel Po along with the inspiring stories of Rex Bookstore's Dominador Buhain, new generation entrepreneurs Tomoyuki Fukura and Edric Chua, fashion designer Randy Ortiz, curator Ricky Francisco, and many more.
All these and more of business, lifestyle, fashion and food are in Asian Dragon's December-January issue, now available at leading bookstores nationwide.

< < Prev: 66th Issue • October-November 2018
Next: 68th Issue • February-March 2019 > >