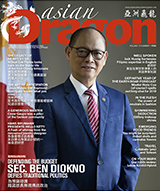 68th Issue • February-March 2019
Ben Diokno - Defending the budget
Food for thought in February-March Asian Dragon
AFTER Asian Dragon's February issue hit the stands with Department of Budget and Management Secretary Benjamin Diokno on the cover, our cover personality was appointed the new Governor of the Bangko Sentral ng Pilipinas. The appointment is the latest milestone in the career of Diokno, the man we called "The embattled economist in the Duterte cabinet" in our story, due to the challenges he faced during his tenure.
An economics expert with a doctorate in the field from Syracuse University, a former professor at the UP School of Economics, and also budget secretary under Pres. Joseph Estrada from 1998 to 2001, Diokno espouses transparency in his administration, he told Asian Dragon. "I guess the best qualification for a budget secretary," he said in the interview with our editor in chief Apa Ongpin, "is that he or she should not be a politician."
Grab a copy to read the full story along with the inspiring stories of Lexus Manila's Raymond Rodriguez, 51 Talk's Jack Huang, Hilton Manila's GM Simon McGrath, young visionary restaurateur Avin Ong, National Gallery Singapore curator Clarissa Chikiamco, renowned jewelry designer Hans Brumann, and many more.
All these and more of business, lifestyle, fashion and food are in Asian Dragon's February-March issue, now available at leading bookstores nationwide.

< < Prev: 67th Issue • December 2018-January 2019
Next: 69th Issue • April-May 2019 > >