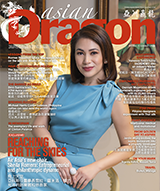 70th Issue • June-July 2019
Sheila Romero - Reaching for the skies
Food for thought in June-July Asian Dragon
"I try to see the silver lining in whatever is thrown at me every day. I pay attention to staying positive and strive to do my best. No problem is bigger than God."
New AirAsia head Sheila Romero juggles her roles as a business leader, homemaker and mother, and hardworking philanthropist—with utmost style.
Personifying the traits of a lioness, Sheila Marie Bermudez Romero, AirAsia's new chairman, is independent-minded, intense, loyal, courageous, but also gracious and lively. Although she claims that her husband, Rep. Michael "Mikee" Romero, is the family breadwinner, Sheila is like the primary "huntress," pivotal to the enduring relationships in her family and the nurturing of her children.
Mikee passed on the chairmanship of F&S Holdings to his wife so that he could focus on politics. In turn, her role as AirAsia Philippines' chairman is to increase revenues and amplify the customer experience. AirAsia plans to acquire seven planes a year in order to open new routes and increase market share.
Read the full story on Sheila Romero along with the inspiring stories of Tourism Promotions Board's Venus Tan, KTM's Dino Santos, Henry and Sons CEO and master roaster Michael Harris Conlin, IACADEMY's Vanessa Tanco, Lalamove's Dannah Majorocon, Golden Bay Fresh Landholdings Inc. COO Jardin Wong, and many more.
All these and more of business, lifestyle, fashion and food are in Asian Dragon's June-July issue, now available at leading bookstores nationwide.

< < Prev: 69th Issue • April-May 2019
Next: 71st Issue • August-September 2019 > >