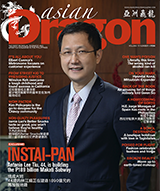 71st Issue • August-September 2019
Antonio Lee Tiu - Instai-pan
Food for thought in August-September Asian Dragon
Who is the young, daring 44-year-old entrepreneur named Antonio "Tony" Lee Tiu, who has assembled a group of foreign investors from China to finance his dream project, to build the Philippines' first-ever subway in the financial center of Makati City? Costing Php189 billion, the project has already been approved by the city government, led by newly reelected Mayor Abigail "Abby" Binay-Campos.
A graduate of Chiang Kai Shek College and De La Salle University, fluent in Tagalog, Hokkien, Mandarin, and English, Tony Tiu is the self-made CEO of AgriNurture, Inc., Greenergy, Big Chill, and Agricultural Bank of the Philippines. On August 2, after he faced the media for the first time in years to answer questions at the Pandesal Forum of Kamuning Bakery Café in Quezon City, Tiu also agreed to give Asian Dragon magazine an exclusive interview.
Grab a copy of this issue of Asian Dragon magazine to read the full story on Antonio Lee Tiu along with the inspiring stories of Elbert Cuenca, Winston Keh, Kim Policarpio, Jamie Lao, H.E Jorge Moragas, and many more. Available at leading bookstores nationwide
All these and more of business, lifestyle, fashion and food are in Asian Dragon's August-September issue, now available at leading bookstores nationwide.

< < Prev: 70th Issue • June-July 2019
Next: 72nd Issue • October-November 2019 > >