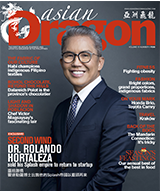 72nd Issue • October-November 2019
Rolando Hortaleza - Second wind
Food for thought in October-November Asian Dragon
On April 14 of this year, Dr. Rolando Bonifacio Hortaleza, M.D. made a surprising announcement: that he had agreed to sell his family's majority interest in publicly listed Splash Corporation, which he and his wife had founded in 1985, to Wipro Consumer Corporation (WCC) of Bangalore, India for "P9 to 11 billion."
It was definitely a lucrative outcome for Hortaleza, but a surprising one, for industry watchers who had seen his entrepreneurial passion and dedication to nurturing and growing his brainchild brands. It was almost a shock to see him let go of the reins.
Asian Dragon met with Dr. Hortaleza at this remarkable crossroads in his life.
Grab a copy of this issue of Asian Dragon magazine to read the full story on how Dr. Rolando Hortaleza sold his Splash empire—and realized that he did it in order to build another one, along with the inspiring stories HABI chair and co-founder Maribel Ongpin, The Zen Institute's Mary Jane Torres, Mary Kay's KK Chua, indie movie producer Albert Almendralejo, Green Pasture's Chef Robby Goco, Philippine Carabao Center's Dr. Arnel Del Barrio, local chocolatier Dalareich Polot, Singapore Airlines GM Yong Tat Lee, Novotel hotel manager Maria Manlulu-Garcia, and many more.
Also, get ready to celebrate with our annual array of sumptuous food gifts!
All these and more of business, lifestyle, fashion and food are in Asian Dragon's September-October issue, now available at leading bookstores nationwide.

< < Prev: 71st Issue • August-September
Next: 73rd Issue • December 2019-January 2020 > >