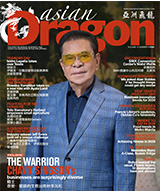 73rd Issue • December 2019-January 2020
Chavit Singson - The warrior
Food for thought in December-January Asian Dragon
Everyone calls him "Gov," and has called him that since 1972, when he was first elected to that position. It's almost an understatement that Luis "Chavit" Singson is a living legend, having not only survived some rather spectacular political adversity, but flourished and prospered despite it. You may love him, hate him, disdain him, or be afraid of him, but there is no argument that his life and personality are fundamentally interesting. His startling personal, political, and professional history have been well chronicled elsewhere; instead, we sought, and were granted, an audience with him, because we wanted to discuss his business interests today, which are not entirely what one might expect.
Although it is well known that he is the property, gaming, bus, airline, and construction businesses, and that he recently bid for the third telecommunications franchise, it is less well known that he is also quite heavily invested in new technologies, such as waste to energy, solar, and hydro power, non-metallic rebars for construction, and AI-enhanced foreign exchange trading. He's also operating two gold mines, has acquired the distributorship for one of China's largest automotive companies, and owns a bank in the United States. The more we talked with him, the more we realize what an adept and intelligent business strategist he is, and either really lucky, or actually rather good, at making deals. Remember that Singson is not a Wharton MBA, nor was he born into Manila's 400: He is a provincial outsider to the economic elite. He did not inherit a fortune; he built it.
It helps that his past business success has provided him with a robust war chest of funds to invest, which he does quite keenly. He seems to pick businesses with sustainable profitability and excellent margins. Of course, perhaps because he's a gambler at heart, those better margins are accompanied by a bit more risk—he can hardly be termed risk-averse. But he does choose businesses that are fundamentally simple, without a lot of moving parts. Unlike certain other celebrated businessmen today, he seems to have expanded organically, by revenue-driven growth, instead of breathtaking leverage. In other words, his businesses make money, not just promise to make money.
Grab a copy of this issue of Asian Dragon magazine to read the full story!
All these and more of business, lifestyle, fashion and food are in Asian Dragon's December-January issue, now available at leading bookstores nationwide.

< < Prev: 72nd Issue • October-November
Next: 74th Issue • Volume 14 no. 1 > >