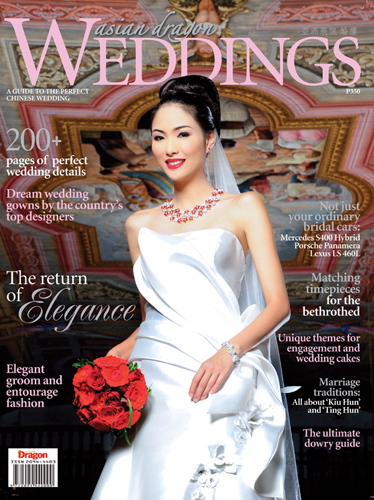 Special Issue: Asian Dragon Weddings 2010
The elegance of Chinese weddings in a special edition magazine!

FROM the kiu hun or pamamanhikan and the ting hun or engagement ceremony, affairs laden with ritual and symbolism, to the dazzle of engagement and dowry jewelry; from exquisite betrothal cakes in ingenious Chinese themes to tables laden with magnificent lauriat feasts; and from more universal concerns such as fine flatware and cutlery for the starter table, to the finer points of choosing a first home—all the color, romance, and intricate detail of a perfect Chinese wedding come to life in the pages of Asian Dragon Weddings: A Guide to the Perfect Chinese Wedding.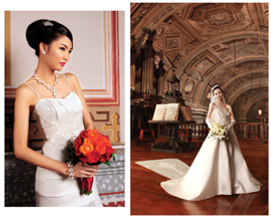 Brought to you by the publishers of Asian Dragon, the lifestyle and business magazine that has successfully become the voice of the modern Chinese-Filipino, this spectacular 250-page magazine is the comprehensive guide to a dream wedding, with all the sublime trimmings. With "the return to elegance" as its theme, and model Ana Sideco photographed for the cover in a gown by Philip Rodriguez, this special issue is packed with over 200 wedding details, from timepieces and cosmetics to accessories and beddings. There is a parade of beautiful wedding gowns by the country's top designers, from masters like Auggie Cordero, Frederick Peralta, and Randy Ortiz, to younger talents like Joey Samson, Ivarluski Aseron and many more, along with fashion for the groom, the entourage, and the godparents. There's even a delightful spread, complete with vintage pictures, on convertible gowns that can take you from formal ceremony to disco reception.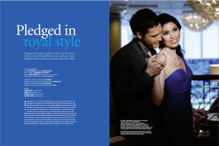 For photographer Lon Liwen's stunning shots of the gowns, Asian Dragon Weddings Editor in Chief and Creative and Art Director Isabel Chen chose three of the country's most important old churches—the Unesco World Heritage Site San Agustin Church in Intramuros, and the Betis Church in Pampanga and the San Sebastian Church in Manila, both recognized as National Cultural Treasures by the National Commission for Culture and the Arts. "We have so many cultural gems in our archipelago, such that it was a tough job to limit the locations to three," says Chen.

Plus, thrown in with all the details from head (the ideal length of veil, romantic hairstyles) to toe (the most delicate shoes and bags), and even underneath (lingerie for the honeymoon), there are articles and essays on history, tradition, and helpful advice for newlyweds, from property sharing tips to issues that must be clarified before a couple takes the plunge, such as money, children, and individual career goals.
With all this information, accompanied by sumptuous photographs, Asian Dragon Weddings is bound to be a collector's issue and the ultimate guide to that special day. In the words of publisher Olivia Limpe-Aw, "It's a special issue, one that probably will never be duplicated or equaled."
Celebrate culture, family values, and good old-fashioned eternal love with Asian Dragon Weddings: A Guide to the Perfect Chinese Wedding, now available at selected bookstores and magazine outlets nationwide.

Back to Top