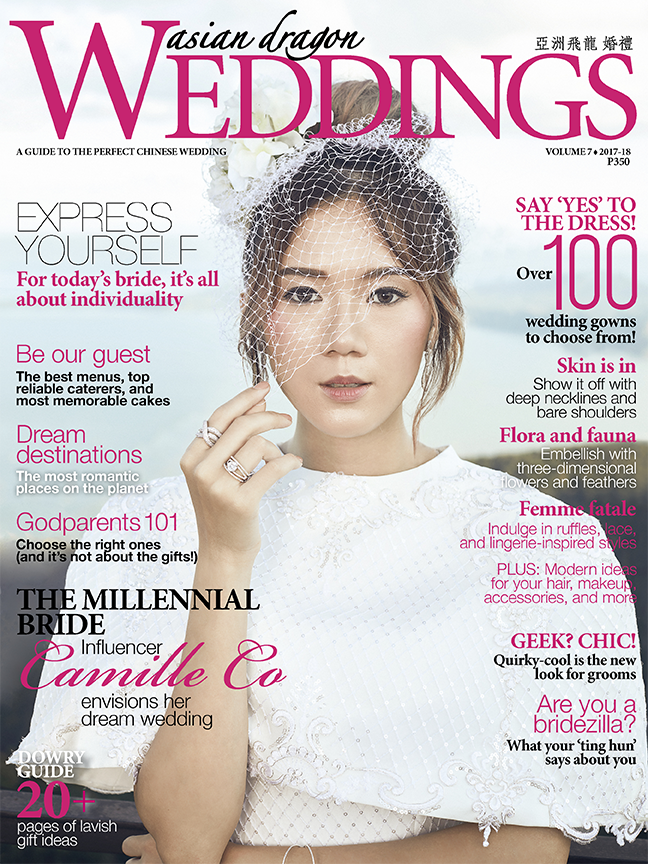 Asian Dragon Weddings 2016-2017
(Volume 7)
No, she's not engaged—but blogger, influencer, and fashion designer Camille Co daydreams about her fantasy wedding, and how she plans to make it her own.
amille Co is a household name in the digital world. When the blogging era started in the Philippines, Camille was part of the first wave of fashion bloggers who stood out. As one of the leading influencers in the country, she jets around the world, and is constantly exposed to the most luxurious and beautiful things to tickle your fancy.
The fashionista and self-made fashion designer naturally likes to dress up, and her statuesque and slim physique allows her do just that. Asian Dragon Weddings asked Camille to do it once again.
See more of this quintessential millennial inside this issue along with knowing what kind of bride one is based on their 'ting hun' in "Am I a Bridezilla?" Know the real role of godparents, the finer points of choosing auspicious days for weddings in "Save that date," stunning Metro Manila churches in "Temples to love," and many more.
For fashion, see the asymmetrical drapes, dramatic silhouettes, and intricate details that would perfectly match the character of a bride and groom.
Lastly, discover 10 of the most romantic places on the planet inside Asian Dragon Weddings' Volume 7, available for order on Lazada or downloadable from Magzter.

Back to Top