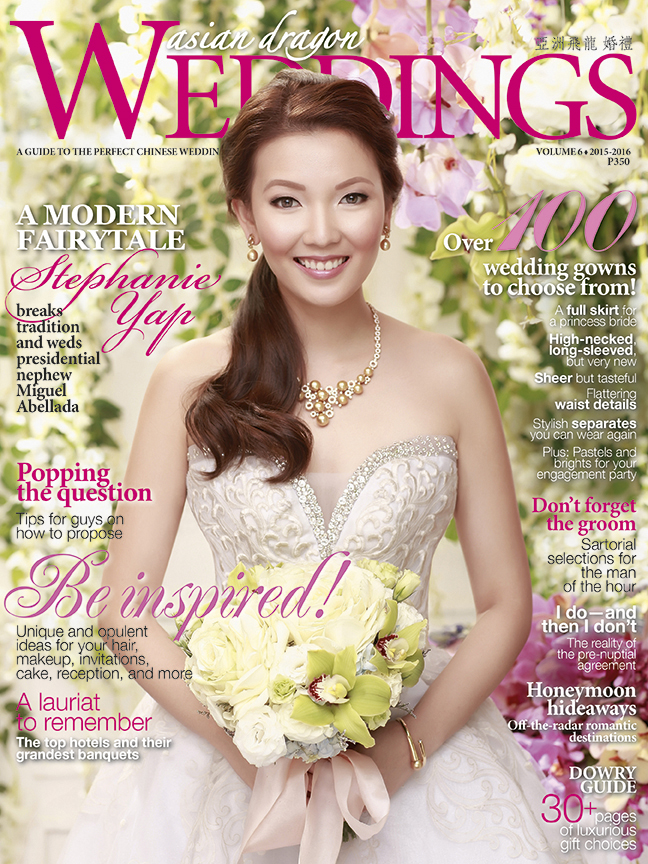 Asian Dragon Weddings 2015-2016
(Volume 6)
The wedding of Stephanie Yap and presidential nephew Miguel Abellada will be a union of independent equals, and the culmination of a seven-year romance. Here, Stephanie tries on dreamy designer gowns in anticipation of the big day.
The first wedding in the presidential family is envisioned to be simple but elegant.
Young executive Miguel Gerardo Aquino Abellada and his equally accomplished fiancée, Stephanie Lorraine T. Yap, prefer an intimate wedding at the Shrine of St. Therese of the Child Jesus in Pasay.
"Since we both come from simple families, we want to keep a low profile. A wedding is an intimate occasion, not a show—which we want to avoid," says Stephanie.
Learn more of their story in this issue of Asian Dragon Weddings along with tips about pre-nuptial agreement in "Heads up on the pre-nup," things you've always wanted to know about Chinese love and marriage, but didn't want to ask your mother in "Dear Auntie," a primer guide on 'kiu hun' and 'ting hun' for Chinoy couples of today in "Will you marry me?" and many more.
Everything you need to know on venues, timeless wedding fashion for both bride and groom, and hidden honeymoon gems to help plan the perfect wedding are now on Asian Dragon Weddings' Volume 7 issue, available for order on Lazada or downloadable from Magzter.

Back to Top