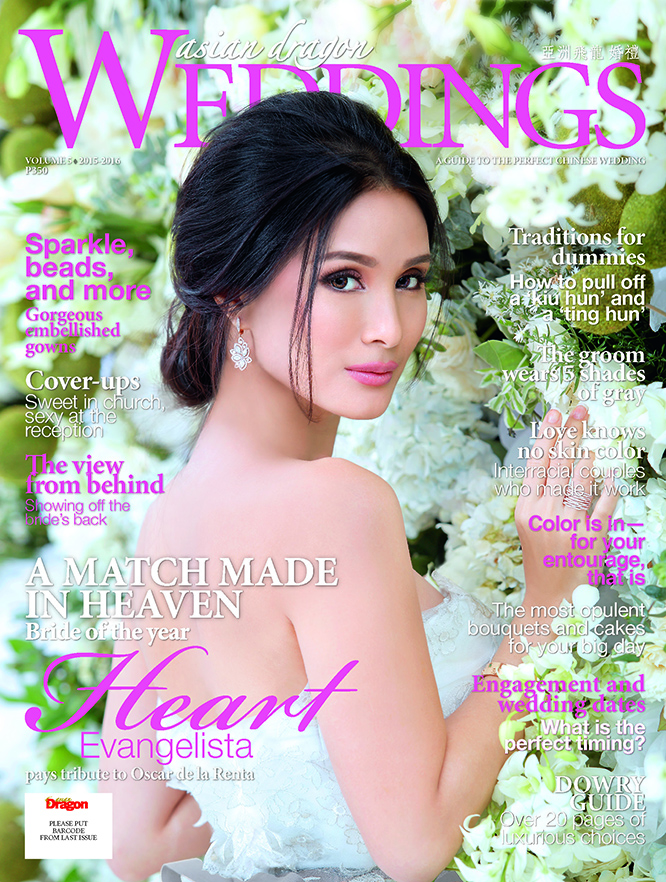 Asian Dragon Weddings 2015-2016
(Volume 5)
The lovely actress' wedding to Senator Chiz Escudero in February 2015 is shaping up to be the celebrity event of the year, what with a star-studded entourage and two celebrations.
As an actress, Heart Evangelista has played a bride quite a few times, both on the small and big screens. While those weddings were pure fiction, they were as elaborate as any actual wedding, and Heart looked as radiant as any bride ought to be.
On the 15th of February 2015, just a day after her 30th birthday, she's walking down the aisle with the real love of her life, the high-profile politician Senator Francis "Chiz" Escudero. For their own wedding, the couple is donning the producers' hats. They're out to make sure the big day will be memorable for them. Every detail of the wedding was chosen by both the groom and bride. They have the expertise to pull this off; he is going to be a second-time groom, and she's played the bride on TV.
Find out the details and themes considered for the wedding that came straight from Heart herself in this issue of Asian Dragon Weddings.
Browse through the intricate styles that a bride could go for with their dress in "Lacy days" and "Daring darling," how Gideon Hermosa has gone from provincial wedding planner to one of the country's most in-demand stylists-cum-florists in "Gideon's touch," the promise that's meant to transcend the test of time in "Timeless love," and many more.
Everything you need to know on venues, timeless wedding fashion for both bride and groom, and hidden honeymoon gems to help plan the perfect wedding are now on Asian Dragon Weddings' Volume 5, available for order on Lazada.

Back to Top