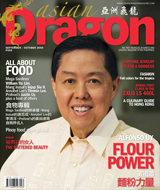 12th Issue • September-October 2009
Alfonso Uy - Flour Power
Asian Dragon serves up its comprehensive and tasty food issue for September-October, featuring everything from mom-and-pop operations that did well to international food corporations that supply the world.
Alfonso Uy, president of one of the biggest agribusinesses in the country, Philippine Foremost Milling Corporation, shares his success story for the cover. Read about food mavericks like William Tiu of Meg Sardines, mango king Justin Uy of Profoods International Corporation, Tenny Chen of Bounty Fresh, Giovanni Co of Ferna Corporation, and Mang Inasal's Injap Sia, among others. Meet the families behind cheesecake central Annabel Lee's and super Chinese deli DEC, pastry chef Jackie Ang-Po, and food stylist pa excellence Lydia Go.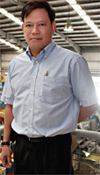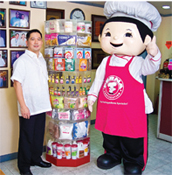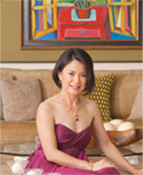 Find out how Nando Cojuangco is exploring biofuel production in the family's sugar mills, and overseas, how mega Pinoy brands like Max Fried Chicken and Jollibee are breaking into the world market. For your own health, read about superfoods in our wellness section, and sit in on a dinner party with hostess Sharon Tan.
We even have an insider's list of places to eat in Hong Kong! Of course, we've got the usual rounds of parties, as well as guides to dressing in fall colors, and learning to contour your face with makeup for maximum impact. It's an issue you'll want to sink your teeth into.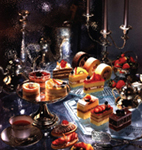 < < Prev: 11th Issue • July-August 2009 | Back to Top | Next: 13th Issue • November-December 2009 > >