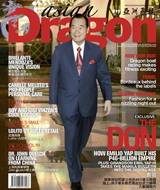 29th Issue • July-August 2012
EXCLUSIVE: THE DON - How Emilio Yap builts his P46-billion empire
Asian Dragon July-August 2012 issue is about optimism and hardwork – key factors in making things happen.
Witness how, our cover, Don Emilio T. Yap built his P46-billion empire making him the 15th richest Filipino in 2012 listed by Forbes magazine. Also, take a look at how his heir, grandson Emil, now taking charge of Manila Bulletin, also rises to the test.


We also zoom in to the story of award-winning independent filmmaker Brillante Mendoza and environment advocate Camille Meloto. Impossible is nothing for road building constractor Ricardo Penson as he talks about what could be the most revolutionary infrastracture project ever in the Philippines, as well as, Bohol Mall King Locloc Uy who started from humble beginnings but now has reached the apex of his entrepreneurial success.
Read as Michelle Teope explains how China changed her life and how she's able to give back. And also, learn from Dr. John A. Quelch as he analyzes China's influence to the world. Find out how Gilles Garachon intends to win the hearts of Filipino people and how Ramada Manila Central GM Karl C. Velhagen makes it a point to provide good quality service to its customers. Asian Dragon also had the chance to tour Boy and Gigi Vinzon's 40-room boutique hotel in Quezon City called Cocoon.



For our regulars, "On Your Mark" covered the 2012 Mercedes-Benz C250 AMG Sport and Honda CR-V. Our health, fitness and wellness sections discover the timeless allure and benefits of dragon boat racing, harmful claims of mediscammers and, how you can prevent the seven diseases that cause mortality in the Philippines.
Feature on weather proof cosmetic products opens our beauty section followed by some beauty favorites that never really go out of style. Our much-anticipated fashion editorials include fashion how-to featuring personal shoppers; young fashion with the theme prep school; wow fashion with contrasting gowns; and a bonus editorial on cocktail dresses.
Browsing through the pages, let Asian Dragon excite your senses with our interior section with the spotlight on renowned Architect James G. Jao and menswear designer Tonichi Nocom's works of art. Be entertained as ambassadorial spouse Gracita Tolentino Sieber shows us the ways to host diplomatic functions.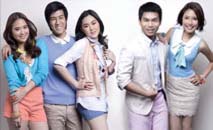 And finally, take a look at some of our snapshots from a gastronomic tour in Spain and our features on wine estates of the world. What more can you ask for? Buy Asian Dragon July-August issue now!





< < Prev: 28th Issue • May-June 2012 | Next: 30th Issue • September-October 2012 > >