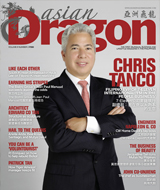 39th Issue • March-April 2014
Christ Tanco - Filipino EVP of 7-Eleven International:
'I'm in the peoples businesses'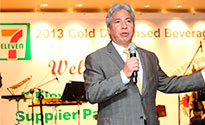 This March-April issue, Asian Dragon opens summer 2014 with Chris Tanco, executive vice president and head of International at 7-Eleven Inc., on the cover. His story starts with his deathbed promise to his father, and goes from waiting tables at Pizza Hut to managing over 135 stores abroad. Readers and businessmen alike will be astounded by his success story in the "people business.".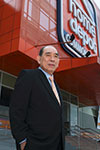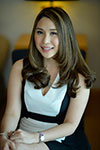 More profiles include architects Edward Co Tan and Avery Go, the rags-to-riches story of CW Home Depot's Napoleon G. Co, Jean Paul Manuud's management of successful restaurants such as Italianni's, TGI Friday's, and Fish & Co., John Cu-Unjieng's genius with Angus beef, and Brian Hontiveros' fixation with high-end kitchen and bathroom details. Asian Dragon also talks to Jacqueline Tan of Mutya ng Pilipinas on promoting "beauty tourism," South Korean Ambassador Hyuk Lee on shared tourism, business, and culture, hoteliers James Montenegro and Walid Wafik on the tourism industry, and SEAIR International Chief Operating Officer Patrick Tan on fitness and the male body.
For lighter reading, Tatin Yang tells the story of a woman whose first heartbreak led to many more disasters; Aaron Aw shares where to find "real-deal" bagnet in Manila; and Pauli Genuino discusses caviar etiquette.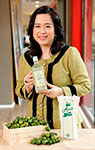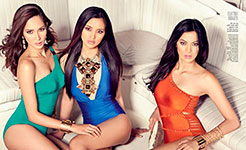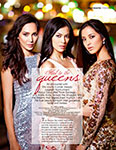 This issue also includes the launch of Destileria Limtuaco's Liqueur de Calamansi Manille, as well as more fashion tips for the summer from our beauty and fashion editors. Just in time for the height of beauty pageant fever, Asian Dragon is publishing exclusive interviews and gorgeous swimsuit shots featuring three beauty queens: Miss Supranational Mutya Datul, Miss International Bea Rose Santiago, and Miss Universe third runner-up Ariella Arida.
Check out more of fashion, business and culture in the latest issue of Asian Dragon magazine, available at major bookstores and outlets nationwide.





< < Prev: 38th Issue • January-February 2014 | Next: 40th Issue • May-June 2014 > >