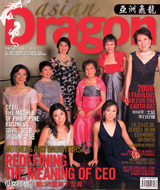 4th Issue • December 2007-February 2008
Mothers and Daughters - Redefining the meaning of CEO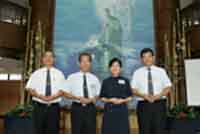 In the 4th issue of Asian Dragon Magazine, readers will revisit Cebu, the mother of Philippine Business and what better cover to culminate the claim than the mothers and daughters behind Cebu's biggest businesses and power families. Elvira Luym and daughter Kaye, Helene Go and daughter Camille Go-Uy of Sulpicio Lines, Nenita Go and daughter Hope Ngo of Manila Saw Mill and Gothong Lines' Lili and Catrina Gothong.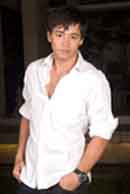 With the welcoming of 2008, you can take a look at Chinese Horoscopes and check out what the stars have to say about things to come - especially if you're a Rat!
Also in this issue are some prominent people in the Chinese community. Cheng Lay Jr., a well known Chinese journalist, talks to Editor-in Chief Lito Gutierrez about how the pen is his weapon in fighting social injustice.
Businessman Fred Ong of Bohol shares with Olivia Limpe-Aw how Bohol Quality is not just an adage. Readers will learn how BQ (Bohol Quality) Mall has strived to uphold the expectations its name suggests. Also included in this issue are features on Philippine attorney Samson Tan, Pioneer Doctor Herbert Gaisano, Tszi Chun's wonderful look on Buddhism and Microtel President Mari Del Rosario.
Karla Vizcarra sits with dermatologist and pseudo-celebrity Dr. Hayden Kho to find out what makes the man tick.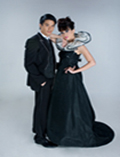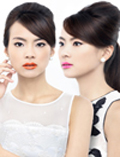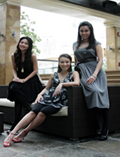 For those who want to try their luck in the world of fashion, two Filipino Chinese supermodels Suyenne Chi Sia and Trishan Cuaso are here to share their experiences. With make up tips from the beautiful Shawn Yao and a feature on what it takes to be supermodel, Asian Dragon supplies readers a perfect view of the fashion industry.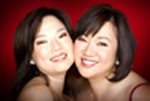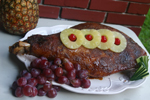 From fashion to technology, Olivia Limpe-Aw shares first hand experience on the joys of business efficiency brought about by mobile/wireless technology. With the hottest jewelry, skin care suggestions, make over salons and the best holiday's food, each little slice of the issue makes the reader want even more.
Finally, to end the year is Louie Cruz's Best of 2007 where we recall the best, brightest and most beautiful places and people in the Philippines. With a feature on a memorable local chocolate factory, an article on belly dancing and an in depth look on speed dating; the magazine promises some of the most interesting articles to date.





< < Prev: 3rd Issue • September-November 2007 | Back to Top | Next: 5th Issue • March-May 2008 > >